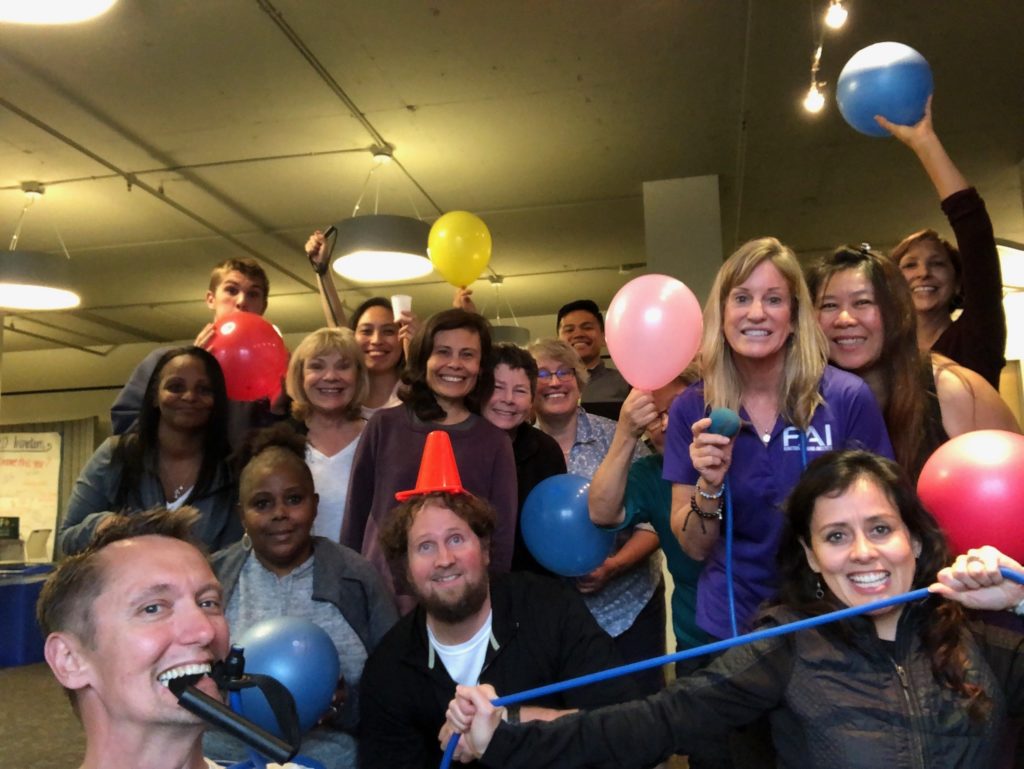 Instructors and Always Active staff at Functional Aging Institute Training.
November 9, 2019
Genny Pinzon – Health Promotion Program Manager
On Lok Always Active at 30th Street Senior Center

"If you want to travel fast go alone, if you want to travel far go together" African Proverb.
Genny began her career as an instructor in 2010. She started by teaching Zumba Gold to older adults and felt in love with the possibility that she had to impact their lives through movement.
Now that she leads the Always Active program, she has the opportunity to incorporate movement, strength, cardio and flexibility in one class. For her it is rewarding and powerful to see participants who could not move well, regain their independence, build a community and continue to live their lives to their full capacity. Genny invites you to try a free class!
Certifications: NASM, Personal Trainer 2021, Personal trainer 2017, AFAA -Group Exercise Instructor 2015, Zumba instructor since 2010, Licensed to teach, Strong by Zumba®, Zumba® Toning, Aqua Zumba®, Zumba Sentao®, Zumba Gold®, Zumba® Kids & Kids Jr., Zumba® Step, Zumba in Circuit. AED/CPR 2021
Luz Villaneuva – Always Active Program Specialist and Instructor
On Lok Always Active at 30th Street Senior Center

"San Francisco is my hometown and I am honored to be able to serve its communities."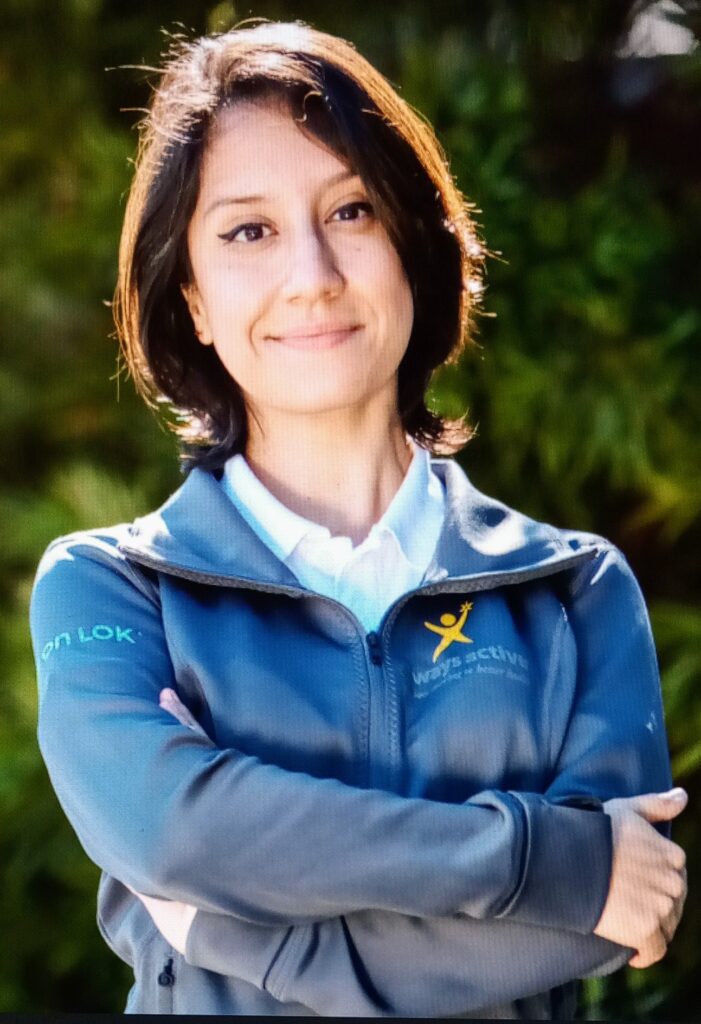 Luz has been involved in sports her whole life. She began her career in Nutrition in 2004, before transitioning into Fitness. At 19, Luz suffered a spinal injury and spent years recovering. During that time, she worked in a multi-disciplinary wellness center, where participants integrated nutrition, yoga, medical lectures and art classes into their comprehensive physical therapy. Aiding her own recovery, Luz studied to become a yoga teacher while working and received her first fitness certification from a donation-based school. From there, making wellness programs accessible to everyone became her primary focus. Modified exercise became her specialty. Always Active was the perfect fit. She enjoys teaching classes bilingually and for all abilities.
Certifications: Nutrition, Yoga, Senior Fitness, Tai-Chi, Group Exercise, Functional Aging Specialist, CPR/AED/First Aid
Diana Lara,  Health Promotion Program Specialist and Instructor.
On Lok Always Active at 30th Street Senior Center

"You are not a drop in the ocean. You are the entire ocean, in a drop". –Rumi
Diana Lara is a dancer, performer, and educator. She started dancing ballet when she was 8 years old in her native country Honduras. She studied contemporary dance in Mexico for 15 years, and graduated from the choreography program of the Center for Research and Choreography at the Mexican National Institute of Fine Arts in 2003. Diana has taught dance and somatic classes for 20 years in English and Spanish with different populations including older adults, professional dancers, and women recovering from domestic violence and trauma. She loves to teach skills to increase body awareness, coordination, and balance; and to get people comfortable being in their bodies and moving in space. Diana is currently studying a master in science in Kinesiology at San Francisco State University. Diana lives in San Francisco, and she enjoys taking walks in nature with her husband and dog Tino.
Certifications: M.S. in population and health, 200-hour yoga certification, Body-Mind Centering® certification on Developmental movement and yoga, certification on tai-chi for arthritis and fall prevention from the Tai-chi for Health Institute, group exercise leader by the Functional Aging institute, CPR/AED.
Visit: www.dianalara-somatics.com
Sue Mittelman, Always Active Regional Coordinator and Instructor
On Lok Always Active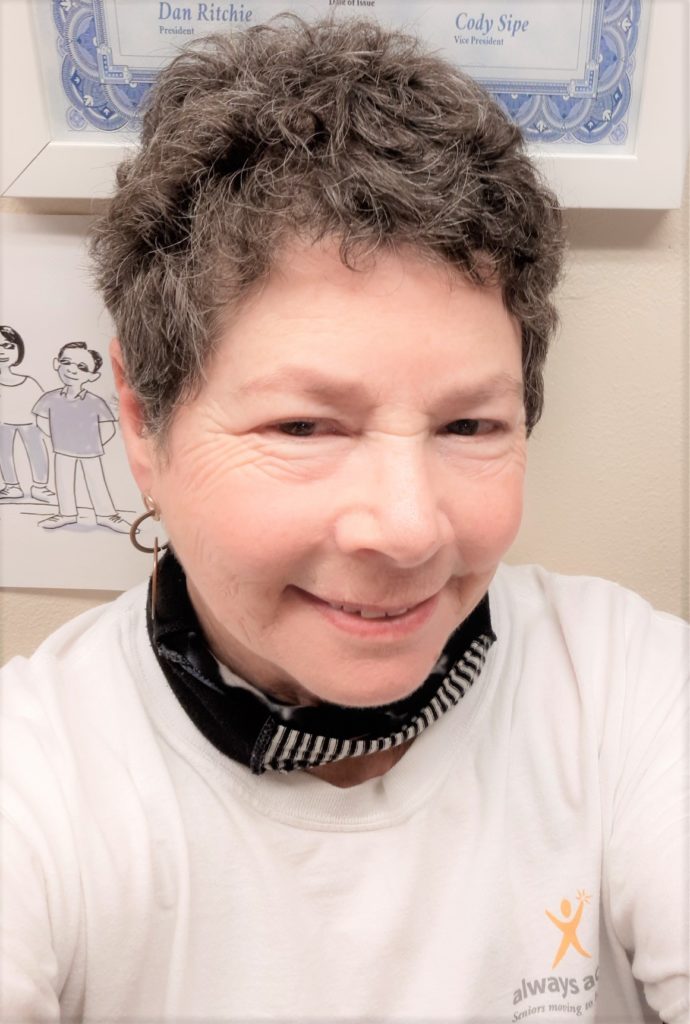 Sue wanted to work with seniors around fitness and active aging after watching her mother struggle with severe osteoporosis in her final years. Fortunately, she discovered that the Always Active program was looking for volunteers and willing to train. The timing was perfect. Dr. Christian Thompson (USF) and Jim Spinelli trained her to lead general group strength and flexibility classes. Sue received additional training to lead Fall Prevention classes. That was nine years ago. For the past 7 years she has been on the staff of the Aquatic Park Senior Center and the Always Active Program as a regional coordinator and exercise leader.
Certifications: I am certified through the American Senior Fitness Association and the Functional Aging Institute.
Christian J. Thompson, Fall Prevention Program Director

"If it is to be, it is up to me" ~ Frank H.T. Rhodes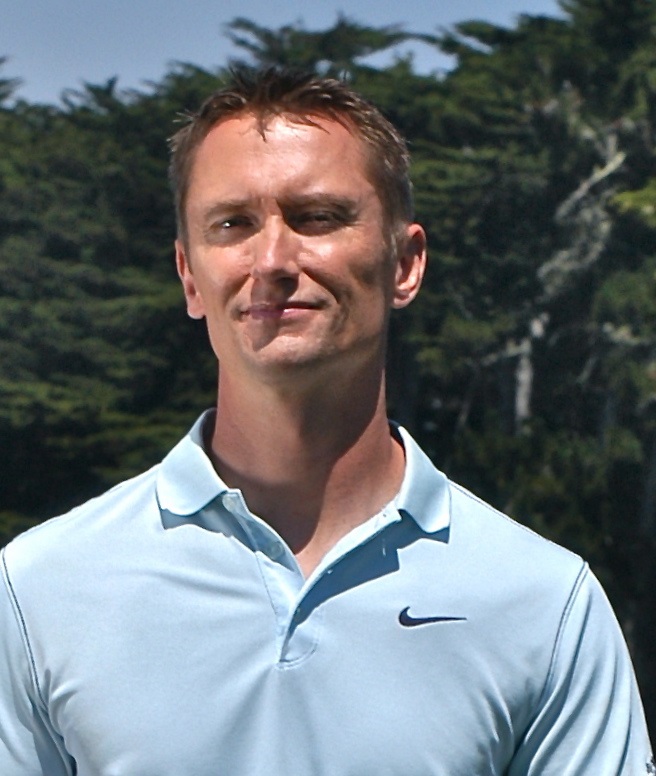 Dr. Chris is an Associate Professor at the Kinesiology Department at University of San Francisco. He has been teaching with Always Active since its inception in 2007, and he created the Fall Prevention Program that is offered at 30th Street Senior Center and Aquatic Park Senior Center. Reducing fall risk and improving fitness in older adults is his career passion.

Dr. Chris holds a Ph.D. in Physical Therapy.
INSTRUCTORS
Mara – Always Active instructor

"If you see yourself in others, then whom can you harm?" ~The Buddha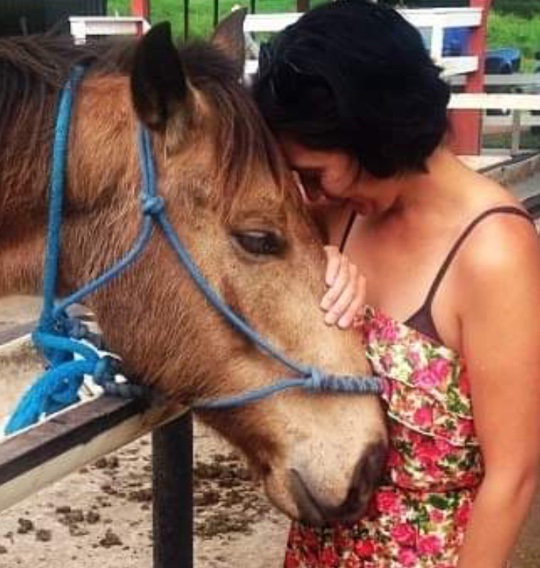 Mara Surel is a health care professional, movement specialist, interdisciplinary artist, and educator whose training in somatics has taken place in many areas of dance as well as in the origins of movement through Body-Mind Centering®, Feldenkrais®, and Axis Syllabus. Working in Integrative Medicine, which incorporates Natural Medicine and Western Medicine together, and seeking to expand her work outside of the health care setting, teaching fitness to older adults was a natural next step. Mara loves empowering individuals to take command of their own Wellness. Dancing since the age of five, she has had the privilege of performing on five continents. Mara loves exploring through travel and adventure and can often be found taking class wherever she may be. She has been teaching movement in San Francisco since 2011. Students describe Mara's classes as "Active", "Enthusiastic", "All-Encompassing", "Versatile".
Certifications: Functional Aging Institute Group Fitness Instructor, Meditation, Energy Medicine, Alternative Therapies, Mind-Body Medicine, Holistic Diet
Susie – Always Active instructor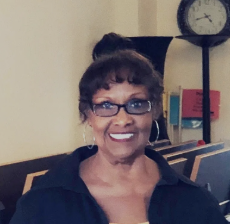 Susie is a very dynamic and vibrant exercise instructor. She is a community leader who brought Always Active program to the George W. Davis Senior Center at in the Bayview neighborhood. She teaches regularly there and also at other Always Active sites around the city. She also loves drumming and leads a drumming group at George W. Davis Senior Center as well as other recreational activities there.
Catherine He, Always Active instructor
More exercise more health!
She is a program assistant at Self-Help for the Elderly, one of the agencies that partner with the Always Active program. When she saw how happy the seniors were while exercising she decided to be an Always Active instructor. She finished her training through the Functional Aging Institute last January 2019. She enjoys teaching the classes for seniors.
Certifications: Functional Aging Institute Group Fitness Instructor, Arthritis foundation: Walk with Ease, CPR/AED/First Aid
Ann Rieger-Matthews – Always Active Instructor
My saying: The effort and dedication you put in toward self-improvement today, will provide the needed strength you must have to be successful tomorrow.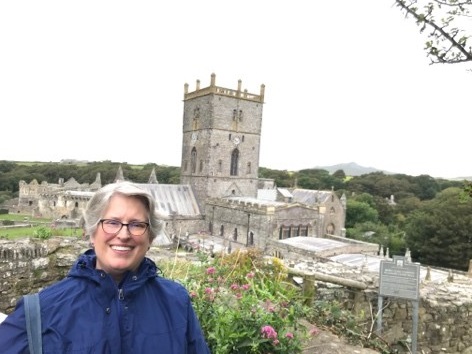 Retired from Pacific Bell & AT&T. Her teaching experience started as a ski instructor many years ago. In 2013, Ann began as an assistant in the Always Active program. I completed my American Senior Fitness Association training in 2014 and Functional Aging Institute training in 2017. She enjoys working with adults to improve balance, range of motion, and strength. She has developed youth and senior programs and have experience working with Alzheimer's and M.S. patients. She is thrilled to be part of Always Active and delighted to help students work to improve their health and functional abilities.
Tiffany Huynh – Always Active Instructor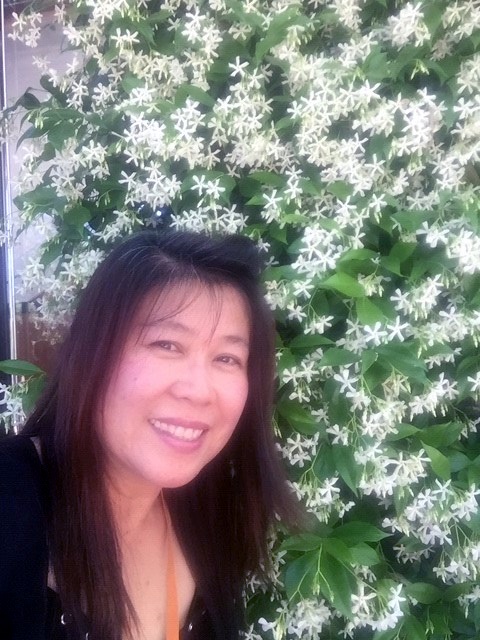 She likes to teach older adults to make them healthier, stronger and happier – that is her goal. When she sees them move and smile it gives her energy, it makes herself healthier too!
Susan – Fall Prevention Program Instructor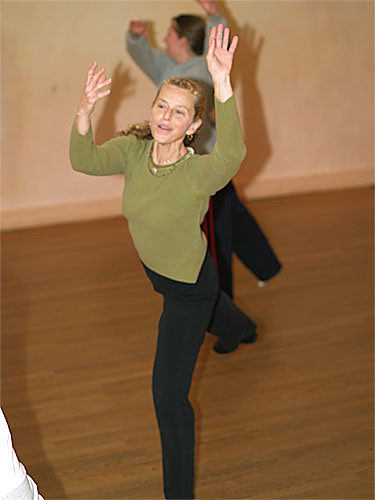 Susan has been teaching fitness for over 17 years and works as a personal trainer and group fitness leader. Prior to her work in fitness, Susan danced professionally for many years & still occasionally performs. Movement has been her life for 50 years, and she loves to inspire others to experience health & fitness.
Certifications: She holds certifications in personal training, senior fitness, yoga & Pilates. Certified ukulele teacher for seniors in San Francisco and Emeryville.
Certifications: ACSM Exercise Physiologist Certified. FAI Functional Aging Specialist. Professional Modern Dancer.
Nayelin – Always Active Instructor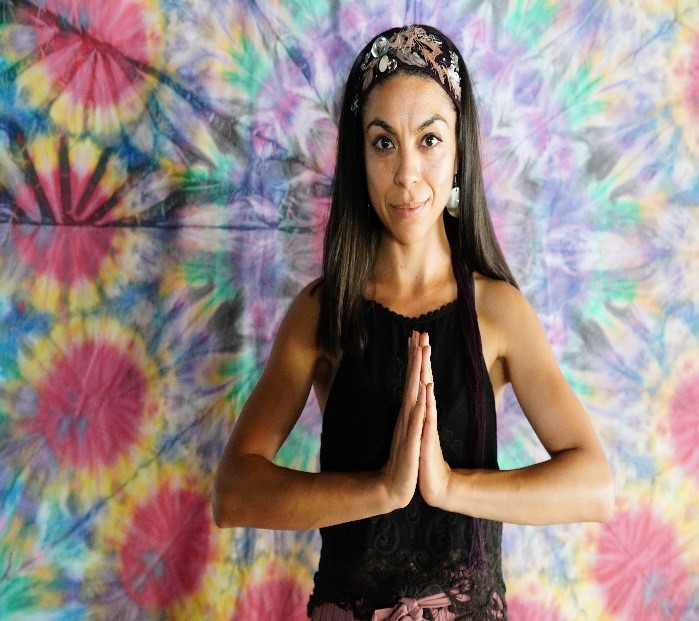 We all deserve to live a healthy and happy life. Nayelin found her peace in her yoga, dance and meditation practice. She loves body movements, consciousness in the breath and introspection; she thinks this is the best way to communicate with ourselves. Nayelin Mendoza is a Yoga instructor who also leads personal growth coaching sessions, she has worked with kids, adults and seniors. She loves to share with everybody all the processes that she has learned in her personal growth. Nayelin strongly belief that we all need a healthy, strong and flexible body, mind, hearth and spirit to live the life we deserve to live. "We are all one, we deserve movement, unconditional love and respect in our life".
Eva — Always Active Instructor
"I've learned that people will forget what you said, people will forget what you did, but people will never forget how you made them feel." – Maya Angelou

Eva has taught Always Active for 5 year. She enjoys teaching Always Active because she gets to meet many seniors during each class and enjoys seeing their smiles. She has noticed the elderly population need more health knowledge, and she was fortunate to participate in Self-Help for the elderly (Department of Nutrition) where she helps seniors to learn about nutrition and health exercises.
Linda — Always Active Instructor
"Live as if you were to die tomorrow. Learn as if you were to live forever." Mahatma Gandhi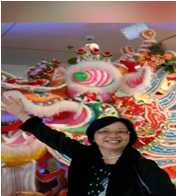 Linda has been teaching Always Active Exercise Class for 10+ years. She is a senior too, and believes that teaching this class is also good for her. She believes that in Always Active classes seniors make friends and enjoy the class to avoid isolation.
Shelaine –Always Active Instructor
"You must be Shapeless, formless, like water. When you pour water in a cup, it becomes the cup." Bruce lee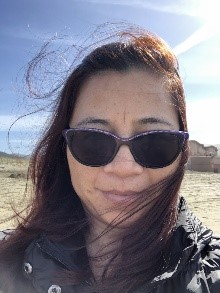 Shelaine has been teaching Always Active classes for more than one year. She teaches AA to improve seniors' health and her own. She believes that teaching older adults to stay active has engraved a warm heart feeling for her.