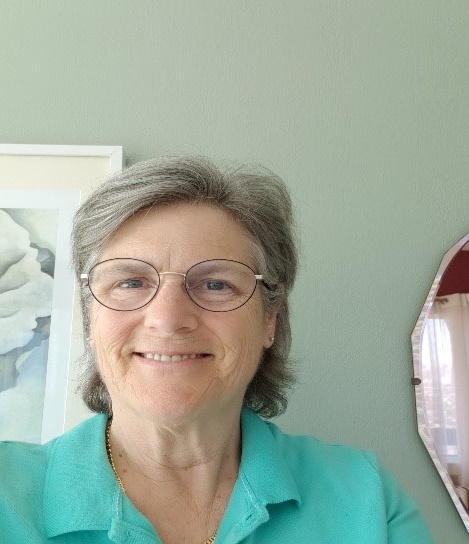 The week of March 16 saw the cancellation of our lives as we had known them. My wife, Jane, has mid/late stage Alzheimer's. Our weeks used to be filled with zipping around San Francisco to attend groups, CCSF classes I can't stop registering for, and coffee or lunch or even gentle walks with other caregiving dyads. We had a full life, but my health had begun to fade. Before the shelter -in-place, I was on hold for a heart monitor to investigate an annoying p-flunk in my heartbeat, my cholesterol numbers were just at the top of "time to worry now," my ankles swelled at the end of each day, I was at least 40 pounds overweight, and I was miserable. After the last doctor appointment and after getting on the wait list for a heart monitor, I made a big decision. It was time to take care of my body the way it deserves to be taken care of. The odds for caregiver health problems are not in their favor, right?
And then…the shelter-in-place. I had started on a reasonable food plan and was finding it easy to follow, but I knew I had to exercise too. I started with 10-minute intervals on a stationary bike, but I was struggling to keep the commitment. A friend of ours mentioned Always Active and how it was being held on Zoom during this upending of our worlds. After thinking about it for several weeks, I finally began attending on April 22. I couldn't physically make it through the first class, but I came back for the next session. By the following week, I was able to last the entire hour.
I don't think I've missed a class since then, and I frequently tune into Tuesday and Thursday. My muscles are remembering their strength and feeling happy, confident, un-miserable. I've lost 29 pounds. The endorphins are pumping joyfully through me. My heart p-flunk is gone. At the end of each class, I write a message, "Thank you SO much!" And I mean it with all my being. I'm not sure where I would be without the Always Active sessions. It has definitely benefited my life on a daily basis and I am SO grateful to the staff and facilitators and giving nature of everyone showing up every day. I'm now a lifelong member J
Joyce C. July 2020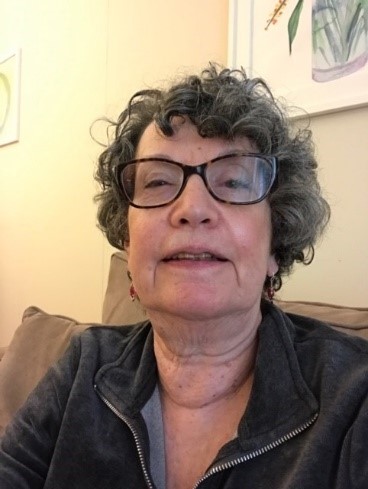 I started going to Always Active as soon as it opened at St. Finn Barr Church in Sunnyside last year. Then, after about two months of shelter-in-place, I realized it would be a long time until senior activities would begin again, so I joined the Always Active program on zoom. Then I saw all the activities in the calendar so I can join something almost every day of the week. Besides Always Active, I now zoom onto Latin Dance, Memoir Writing, and Boomer Talks. I probably will join a few more activities later in July.
Thanks so much for keeping our minds and bodies active and healthy during this difficult time and helping to prevent the "pandemic blues."
Bobbie K. July 2020
~~~~~~~~~~~~~~~~~~~~~~~~~~~~~~~~~~~~~~~~~~~~~~~~~~~~~~~~~~~~~~~~~
I found out about 30 th Senior Center through a friend. It was a life saver both physically, mental as well as emotionally during these uncertain times. When I joined, all activities are conducted via Zoom. It turned out that we all appreciated it : the convenience of staying home, no travel time , plus contributing to less pollution and not catching any disease. I also realized that it has becoming unsafe to walk on the streets. Hopefully the latter is a temporary phenomenon.  
The classes are wonderful, adaptable to all levels of physical fitness. Both instructors and participants are very welcoming and encouraging. 30 th Street has given me a routine that I look forward to daily. The management is always improving and adding a diverse program to accommodate different interests of the community. 
Furthermore, I appreciate the prompt response when I call or email with a question or suggestion to improve the program. I'm very grateful to have such a wonderful Senior Center in my life. 
I.Y.  July 2020
 ~~~~~~~~~~~~~~~~~~~~~~~~~~~~~~~~~~~~~~~~~~~~~~~~~~~~~~~~~~
I very much appreciate the Zoom sessions. It is difficult, confined at home, as most seniors are, to be disciplined about setting aside time to exercise even though we all know its essential role in keeping us physically independent. So it helps to have specific times to be ready, and, especially, specific guidance so that if we follow the instructor – modifying if necessary as we go – we get a session to raise the heart rate and exercises to help strengthen muscle groups that control balance and help maintain flexibility.  All the instructors are engaging, clear, and helpful.  I thank you and all of them for the benefits they provide. As ever,
Gerald
~~~~~~~~~~~~~~~~~~~~~~~~~~~~~~~~~~~~~~~~~~~~~~~~~~~~~~~~~~~~~~~~~
Under Susan's leadership in the Fall Prevention program. first at the 30th Street center and now virtually, I've achieved a level of flexibility that I didn't think possible.  A spinal condition limits my mobility but with Susan's encouragement I am now able to do far more than might have been imagined two years ago.  She's an amazingly patient teacher.
Bob D. (Fall Prevention) July 2020
~~~~~~~~~~~~~~~~~~~~~~~~~~~~~~~~~~~~~~~~~~~~~~~~~~~~~~~~~~~~~~~~~
During this time of shelter in place, this on line community has been a lifesaver.Your phone calls and offers of help is most reassuring and welcomed.The many program's offered by way of Zoom, made me excited to attend. The exercise, tech, memoir writing, yoga, corona chat, and many others, keeps my mind active and my body moving. Thank you so much for all your concern and care.                                                     
Brenda G.
~~~~~~~~~~~~~~~~~~~~~~~~~~~~~~~~~~~~~~~~~~~~~~~~~~~~~~~~~~~~~~~~
Many people have commented on the extra pounds they've gained during our sheltering in place.  Because of the Always active classes, I have not gained a pound.  I'm very busy exercising.  I'm hoping to build up enough strength to have the energy to try some of the other programs offered.  I feel so thankful for all the Zoom classes and for Jenny and Melissa, out beautiful hosts.
Susan E.
~~~~~~~~~~~~~~~~~~~~~~~~~~~~~~~~~~~~~~~~~~~~~~~~~~~~~~~~~~~~~~~~
I am glad I joined the exercise classes. It helped my scoliosis. I need to exercise. It motivates me to exercise. It's boring to exercise alone just following in the u tube. Because there are other people that I know. So it is always fun. It helps our boredom at home. It helps us also keep our muscles and bone stronger. Before I join this exercise, whenever I walk it feels my legs were weak. Now after several weeks exercising, I can feel the difference. I have stronger legs and can walk steady. I have to wake up early whenever I have exercise. I always look forward to this days that there is exercise class.
Elmira L.
~~~~~~~~~~~~~~~~~~~~~~~~~~~~~~~~~~~~~~~~~~~~~~~~~~~~~~~~~~~~~~~~
Thank you so much, you've put Adventure into my life I look forward  To all activities That you offer. It is so appreciated. As a senior I  Sincerely feel that you care and are watching out for us. Even through this   terrible pandemic you have somehow manage to check on us. You've made it easier for us to deal with technology as far as all your different activities as We Learn to use Zoom. Making  me feel all is well for you are there! We are not alone.
Eileen. May 2020.
~~~~~~~~~~~~~~~~~~~~~~~~~~~~~~~~~~~~~~~~~~~~~~~~~~~~~~
Testimonials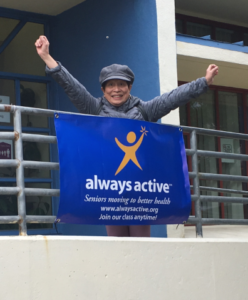 Since I joined Always Active for Seniors I became more energetic and my flexibility has improved. I also met new friends and I reduced my stress.
Norma C.   Age 79
************************************************************************
In October 2016, after learning of my Multiple Sclerosis (MS) diagnosis, Glenda Hope knocked on my door, inviting me to join the Always Active exercise class at Bethel Church.  The first day was eventful when I lost my balance during an exercise, and crash landed onto the floor.  Many ladies rushed to my aid.  Joe, jokingly, asked me to repeat the fall at the next class for those who missed it…I declined. 
Balance continues to be a top priority.  I've learned to recognize my abilities, modify the exercises as needed, and important fall prevention techniques. 
My fellow exercisers and instructors are friendly and supportive.  In April, encouraged by MG, six of us participated in the MS Walk, with many supporters.  With their assistance, I was able to complete the three mile walk. 
Friendships ae made at Always Active.
Karen Pudoff
***********************************************************************************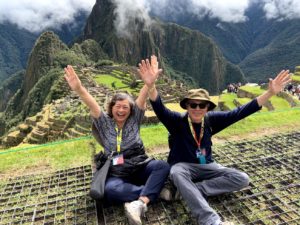 Since I retired two years ago, I started to attend the exercise class to help me keep up with my grandchildren.  My recent trip to Peru to visit Machu Picchu would not have been possible without the exercises I received to strengthen my legs, the inner core and 2-3 mile walk we took three times a week.  I was able to climb uneven steps without any problems despite some 14,200 ft altitude in some areas.
I am so grateful for the wonderful program to keep us moving.
– Gratefully, Linda
************************************************************************
Charlene F. – 71 – Aquatic Park (she's the seated one) – I have emphysema.  My doctor suggested I take this class and it's kept me going and breathing for the past 2 years.
Patty M – 83 – Aquatic Park.  I've been taking this class for the last 10 years.  It's one of the reasons I can still get around on my own – on muni, driving or walking. 
*************************************************************************************
I started to go to the exercise classes shortly after my heart attack as a remedy.  At that time the class was lead by Jim who was so tough that I did not think that I could keep up.  After looking around and seeing that most people in the class were elderly Chinese women I decided that if they can do it so can I and I am still doing it.  I like the music, the instructors, the camaraderie but best of all I like how good it feels when we stop.
************************************************************************
I really enjoy this class.  I take many classes and Always Active is the most beneficial for me.
**************************************************************************************
I had knee replacement and I used to walk with a cane. When I came to 30th Street, I joined the exercise classes and now I am not using the cane. My strength and flexibility has improved, I feel taller when I walk, and people tell me I look younger!

Angela F. (67yrs)