About
Always Active Program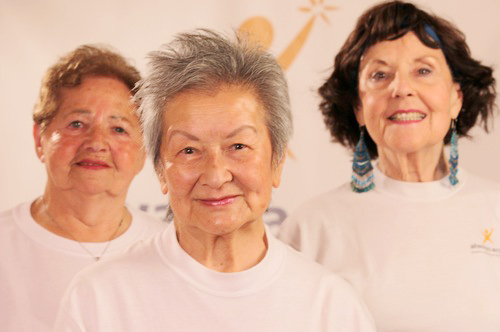 The Always Active program offers you the chance to participate in general exercise classes and receive a personalized wellness plan designed by you, your doctor and the program coordinator. This wellness plan will provide you with the knowledge to take action on a daily and/or weekly exercise program to increase your energy, strength and balance while helping you to reduce and prevent the incidence of many chronic diseases such as cancer, heart disease, high blood pressure, diabetes, etc. We also offer you the opportunity to participate in our Fall Prevention workshop. Always Active sm is a great opportunity to make new friends, improve your health, and learn skills to enhance your overall well-being!
Program Goal
Our goal is to provide activities specifically designed for you that will include cardiovascular, strength training, flexibility and balance exercises that you can do on your own as well as in group classes. Whether you are new to exercise, or you have been exercising for years, the Always Active program and trained staff will support you in your desire to feel better and function optimally- encouraging you to achieve your goals
Frequently Asked Questions
What is Always Active?
Always Active is a wellness program for seniors over the age of 60 that strives to improve health, fitness, maintain independence and a high quality of life. We pride our unique services in being easily accessible through neighborhood centers, multi-lingual for a diverse population of seniors, and financially feasible by being donation based. We provide nationally certified, professional exercise leaders to conduct our exercise classes, and to design a wellness program personally modified according to your readiness and your doctor's consent.
How much does it cost?
The program is FREE for qualifying seniors. We may only ask for a minimal donation of $25, one time during the year when you enroll. No one is denied services if unable to donate.
What can the program do for me?
Always Active can help you achieve better health through regular exercise to enhance your muscular strength and flexibility. We also offer workshops to prevent falls, and ongoing education on various health topics.
How do I join?
The steps you take to join are:
1) Talk to the AA staff/volunteer at your center to pick up a physician's release form. Get your physician's clearance first.
2) Return the signed form to the AA Staff or AA site coordinator, and sign up with an Always Active staff to complete your enrollment and wellness consultation.
3) Bring your center membership card (if applicable) to your appointment, and a $25 donation, if you can give.
What should I wear?
Any comfortable, loose-fitting clothes will do. If it's cold, wear several layers of light clothing, which you can remove as needed. Athletic shoes with good padding, arch supports, and uppers that allow air to circulate around your feet are ideal.
What is the Schedule of classes?
Check with the AA Staff/volunteers at your center for the schedule of Basic and/or Advanced Strength and Flexibility classes, and Fall Prevention Programs.
Contact: AA Site Coordinators: Luz Villanueva: 415-550-2265 or Sue Mittelman 415-923-4482 for more information.