Classes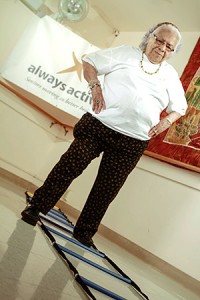 General Exercise Classes:

For a complete schedule of Strength and Flexibility classes, please go to the schedule page, for locations and map please go to locations page.
Basic strength and flexibility classes
60 minutes of general conditioning in a fun social setting
40+ classes offered weekly throughout San Francisco
All exercise classes are led by trained professionals who have been certified by national fitness organizations.
Falls Prevention  Classes:
12 week program
Improve Strength, flexibility, balance, and gait
Recommended for previous fallers
For information contact Dr. Christian Thompson at the University of San Francisco 415-422-5270.
Wellness Trainer Certification:
Open  to  qualified staff/volunteers from city agencies working with older adults.
To receive certification, volunteers must take the complete course and test (materials provided by Always Active) .
Intended to develop knowledge and skills for sustainable exercise programming.
For information  about trainer certification contact Program Manager  Luz Villaneuva at  415-550-2265.